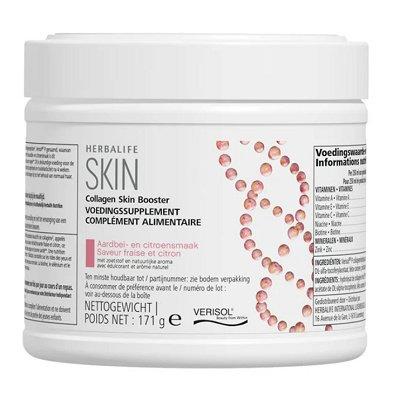 Herbalife SKIN® Collagen Skin Booster Strawberry and Lemon
076K
Description
Herbalife Collagen Skin Booster
Promote your skin's health from within for visibly younger looking skin. This supplement is available in Strawberry and Lemon flavour. It is formulated with Verisol®* collagen to support skin elasticity and reduce wrinkles.
What is Herbalife Collagen Skin Booster
Collagen is what gives the dermis (the thick inner layer of our skin) its firm structure. As we age, the production of collagen in our bodies diminishes resulting in the loss of firmness and elasticity, and the appearance of wrinkles. Herbalife SKIN® Collagen Skin Booster nourishes the skin from within and provides the nutrients to maintain a youthful and radiant skin.


Key Benefits Herbalife Collagen Skin Booster
Contains bioactive collagen peptides* called Verisol®* P
Verisol®* P is scientifically proven to reduce eye wrinkles and improve skin elasticity after 4 weeks
High in vitamins A, C, E, Niacin (Vitamin B3) and Biotin
High in minerals Zinc, Selenium, Copper and Lodine
Gluten Free


Usage Herbalife Collagen Skin Booster
For men and women
Mix 1 scoop (5,7g) in 250mL of water or add to your favourite shake, tea or aloe.
1 scoop/day = 1 serving. Take once a day.


* Verisol® and bioactive collagen peptides are trademarks of GELITA AG
Related Herbalife products
The item has been added to your basket