Herbalife Recipes / brochures
Free Herbalife Today Magazine
Free Herbalife Product Brochure
Herbalife shake recipes
Explore our selection of delicious healthy recipes from Herbalife that are packed with the good stuff and don't compromise on flavour.
This is your easy guide to prepare delicious, healthy recipes for you and your family with minimal effort.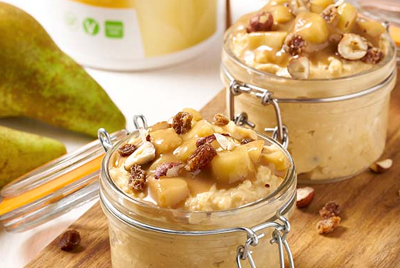 Overnight Oats with Herbalife F1
For the new year, try a new way to have a delicious breakfast.
These overnight oats are a tasty way to get a great morning meal, with a flavourful topping made with chopped pear, cinnamon flavour Herbal Tea Concentrate and apple flavour Oat Apple Fibre.
Serves: 1
Prep time: 10 minutes
Cook time: 240 minutes
Ingredients:
Method:
1. Mix chopped pear, Herbal Tea Concentrate, Oat Apple Fibre and 2 tbsp cold water together in a small bowl. Stir until well combined. Set aside to allow mixture to thicken while you prepare the oats.
2. In a mason jar or small bowl, mix rolled oats, Formula 1 and Protein Drink Mix together with a fork. Gradually add the remaining water, stirring until well blended. Spoon pear mixture on top. Cover tightly with jar lid or plastic wrap and place in the refrigerator for 4 hours, or up to overnight.
3. Sprinkle with additional cinnamon before serving, if desired.
Other Herbalife Recipes:
Cookie Crunch and Peanut Protein Pancakes
Chia Berry Pudding
Chocolate and Hazelnut Raw Cookies
Red Velvet Protein Shake
Kiwi and Cucumber Shake with PRO 20 Select